When:
January 13, 2018 – January 14, 2018
all-day
2018-01-13T00:00:00-07:00
2018-01-15T00:00:00-07:00
Where:
SWEATshop Dance
937 Santa Fe Dr
Denver, CO 80204
USA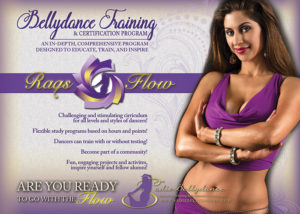 Sadie offers her comprehensive bellydance training and certification program "Raqs Flow" in Denver, Colorado!Students will train for 12 hours in the Level 1 curriculum and be eligible to test.Testing is optional, but required to certify in the program. Space is limited to 22 for intimate one on one coaching and guidance. Be sure to reserve your space right away as spots are anticipated to sell out.
SCHEDULE: Saturday 9am-1pm / 2:30pm-6:30pm Sunday 9am-1pm / 2pm-3:00pm Overview and Topics:
History and cultural examination
Level 1 Strength training and conditioning to develop the core, enhance stamina, flexibility, balance, and well-being
Implementation of posture and arm positions
Introduction to applicable classical dance movement techniques and body mechanics
Level 1 Raqs Flow technique and movement vocabulary
Introduction to the Raqs Sharqi movement vocabulary
Level 1 Rhythm identification and timing with live darbuka musician
Level 1 Drills designed to enhance stamina, coordination and rhythmic consistency
Level 1 Choreography to enhance and develop "Flow"
All details about the program and curriculum content will be released in your registration packet. Please be advised we do not offer refunds. For detailed information click here.