When:
July 10, 2020 – July 22, 2020
all-day
2020-07-10T00:00:00+02:00
2020-07-23T00:00:00+02:00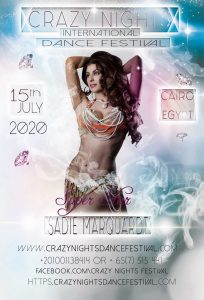 Don't miss this incredible experience to train with Sadie and Master Egyptian Legends in Egypt! Over 40 hours of workshops, Crazy Surprises, Crazy Parties! Touring! Costumes! Shopping! Comeptitons, Live Orchestra Shows and performance opportunities!
Contact Sadie directly to reserve your spot with her group and save $100 before December 31st!
sadie.bellydancer@gmail.com